About us
The Serving Company was established in 1992. The Companies primary function was repair and maintenance of different industrial equipment. Through the years the company and the number of employees grew. We expanded our field of operation and started working on technologically more demanding projects. We also set up our own production lines and started building various types of technological equipment ourselves.
Today Serving d.o.o company offers its customers repair, maintenance and assembly of many different types of technological equipment. We mainly build products on our own. For more demanding projects we seek cooperation of our many business partners.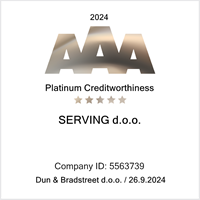 Company's card
Comapany full name:
Serving proizvodno, storitveno in trgovsko podjetje d.o.o.

Abbreviated name:
Serving d.o.o.

Adress:
Polena 10

Postal code:
2392 Mežica

ID VAT No:
SI53363825

Registration number:
5563739

IBAN:
SI56 0247 0001 5141 242

Bank account number:
1010 0003 9609 751, Banka Koper
0247 0001 5141 242, Nova Ljubljanska banka

Commercial register:
1/04767/00 Regional Court of Slovenj Gradec

Initial capital:
22.363,95 €

Director:
Petrič Jože


Tel.:
+ 386 2 82 35 650

Fax:
+ 386 2 82 77 637

E-mail:
servingdoo@servingdoo.si, servingdoo@siol.net
Web:
www.servingdoo.com